As I already mentioned, I am an 8 year old little boy who goes to Monta Loma School and is in 2nd grade.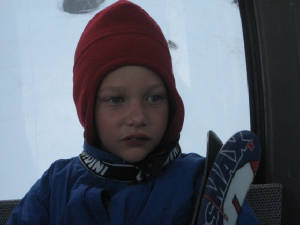 I love to ski, but my favorite sport is tetherball. Me and my friends Zach, Medi, Jake, and Joe call it "tederball" and we play it most of the time during recess.

My favorite hobby is game cube, and I could play it 25 hours a day, but our teacher says that there are only 24. So I have to limit myself.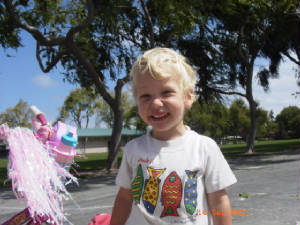 I am born at El Camino Hospital and I have always lived in Mountain View, California.

My parents are not born in the US. My father is French born in Algeria, North Africa, and my mother is from South Africa.

I have two sisters. One is 28 and is married and lives with her husband. The other one, the brat (her name is really Romy, but I prefer "The Brat"), just turned 10 year old and thinks it was 20 (tell me about it). She lives next door to my room and makes a lot of noise.

She always want to go across the street to visit another little brat who has the same name as me. Guess how that makes me feel...

We also have 2 cats, Pooch and Stoffle. I like Poochie, but I prefer Garfield, who is a computer animated character, because he has less flees and he leaves me alone when I want to. Our Pooch likes to eat and to sleep on top of my sister Romy.

Stoffle is usually scared of everyone, but she is a very sweet cat.

We have to do piano every day for 30 minutes because my father is loco about it...
So you don't think I am making it up...

What a brat!

Yeap! You see what I mean? I never exaggerate! And she does not let me play with her new gamecube game, and she always leaves me out when her friends are here, but she loves finding me in the morning when she wakes up. Anyway... another 8 years and the place is mine...